Less than 1 year old on Allbiz
Technical characteristics
Country of manufacture

Russia
Description
The products of manufacturers from Russia, China, Czech Republic are presented.
A number of jacks require an external pump or pump station (sold separately) to operate. Check with the manager for the completeness of the jack.
Appointment
Hydraulic jacks are used for lifting loads in the process of assembly, construction and auto repair work. The most common hydraulic jacks are bottle type. The jack is a hydraulic stand that combines a hydraulic cylinder and a pump in one housing, which provides autonomy, high efficiency and safety.
The main bearing elements are the body (cylinder), the extendable piston (plunger) and the working fluid (usually oil). By pumping the pump manually or using electricity, the user fills the bottom of the cylinder with oil and raises the piston up.
Jacks of this type differ from rack and pinion and screw jacks with a significantly higher lifting capacity and smooth running. However, hydraulic jacks are relatively slow, and it should not be forgotten that bottle jacks must be stored exclusively in an upright position.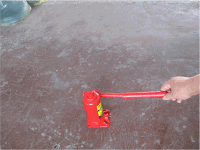 Contact the seller
Hydraulic jacks